Starring Rupert Grint (yes, "Ron Weasley." That Rupert Grint), Robert Sheehan, Kimberley Nixon, and James Nesbitt.
Sex, drugs, and rock and roll, baby.
"What do you wanna know?" 
I wanna know why you've been hiding that handsome face under all that red hair.
No word yet on a release date.
Update: Okay, this is the OFFICIAL official first trailer. Almost identical to the promo that was posted earlier, except with boobies and bad words edited out, and with different music.
The 20-year old Harry Potter star graces the cover of Blag magazine, a bi-annual glossy, for their latest issue now on sale in the U.K., with an international release TBA.
Grint, known to fans worldwide as Ron Weasley, is preparing for life after Potter by switching up his image from funny sidekick to smouldering leading man. He's already completed sexy indie thriller Cherrybomb (see an exclusive review here), now making it's third festival appearance this month at the Belfast Film Festival. Another film he lately completed and due for release sometime this year is the black comedy Wild Target, where he co-stars with Bill Nighy and Emily Blunt as an apprentice hit-man.
And now he's posing for hip alt-mag Blag, trading Hogwarts robes for cherry-red blazers and sleeveless tees that reveal bulging biceps. See the teaser below, but if you want to see more, you'll have to pick up your own copy here or look for it in a bookstore near you. 
Hot off the heels of it's Berlinale premiere, Cherrybomb was screened this past weekend at the Jameson Dublin International Film Festival. Below is a review, with minor spoilers:
As a first feature, if Cherrybomb is any indication of what we can expect from the directorial team of Glenn Leyburn and Lisa Barros D'Sa, then there is certainly much to look forward to from them. The film is stylishly directed, briskly paced, and well-acted, especially by the three young leads, Rupert Grint, Robert Sheehan, and Kimberley Nixon. What appears at first to be a simple tale of male rivalry over a beautiful girl becomes much more as Cherrybomb unfolds, revealing layers of parental emotional neglect, loyalty, friendship and love under a gritty and honest look at teenage life.  The story, set in Belfast and penned by screenwriter Daragh Carville, centers on three characters, teenagers Malachy (Grint), Luke (Sheehan), and Michelle (Nixon).
We are familiar, of course, with Grint's work in the Harry Potter movies as Harry's funny and fiercely loyal best friend Ron Weasley. So it is particularly interesting to watch his performance as a Belfast youth, caught between a stable, comfortable home life and his desire to prove himself a dangerous 'bad boy' to impress the alluring Michelle and keep pace with his truly wild best friend Luke. In this film, Grint is unrecognizable from his Ron Weasely persona. He makes an impressive transformation, both physically, trading Ron's shaggy ginger locks for rockabilly slicked-back hair, and in his character. With an insouciant smirk and latent intensity behind a calm exterior, Grint is convincing as Malachy, a hard-partying guy who is essentially a good kid with a rebellious streak, an "A" student and a poet armed with a can of spray paint. 
Robert Sheehan is perhaps not as well-known yet as his castmate, but he already has a long list of television and film credits in his resumé, and he holds his own well against Grint, who is already a seasoned movie veteran at the ripe old age of twenty. Sheehan's character, a troubled young man with a knack for causing havoc, is also at times the most heart-breaking. The quintessential wounded soul trying and failing to hide behind a tough guy image. Whereas Grint's Malachy was played with the quiet subtlety befitting the anchor in Luke's life, Sheehan gives Luke a frenetic, nervous energy. We get the sense that if it weren't for Malachy's grounding presence, Luke could truly fall off the edge.
Kimberley Nixon, known to audiences for her role in the BBC series Cranford, was adept at rounding out what could have been a one-dimensional teen seductress role with an underlying vulnerability, showing the cracks in her shell that Malachy begins to break through as the story progresses. However, her character perhaps could have used some more development to make her truly sympathetic. It may be difficult for audiences to understand why she is driven to so destructively manipulate the two young men as she does. But she gives a good performance in her role as the catalyst that sets events in motion, and she has nice chemistry with Grint. Their love scene, which brought the film much early attention across the internet ("OMG, Ron Weasley has teh SEX!"), was a highlight of the film, surprisingly honest and tender, rather than gratuitous and graphic.
Drinking and drugs play a prominent role in the story, but it's never in a preachy, "kid's, don't let this happen to you" sort of way. It deals with teenage drug use as a frank fact of life for many kids, and doesn't set out to moralize about it, even in the drug-soaked climax of the movie that leads to it's shocking end. At the post-screening Q&A with the directors, one audience member asked, half-joking, "As a father of a 16-year old, I'd like to know: Is this what goes on behind my back?" The unspoken answer was, "Yes, unfortunately." But the story is not the cautionary tale we are used to seeing when adolescent drug use is depicted. It is essentially about the relationship of the three principals, and the motivations for rebellion that lie just beneath the surface. 
A glimpse into Luke's 'family,' if it can even be called that, easily establishes what is behind his manic outbursts and overtly destructive acts calling for attention. Luke comes from a very broken home, with a pitiful, alcohol-addled father called Smiley (Lalor Roddy) who cowers under brutish bullying by his oldest son Chris (Paul Kennedy), Luke's drug-dealing, Irish mafioso brother. The atmosphere in Luke's home is of two people living under duress, held hostage by their dependence on a cruel, abusive man. 
Like Luke, Michelle is starving for attention. She has been shipped to Belfast from London by her mother for the vaguely stated reason that she is "nothing but trouble" to see if her father, David Crilly (James Nesbitt), can make a go of trying to raise her and rein her in. Her father, however, is too distracted by work and his own affairs (literally), to pay Michelle the attention she craves, so she seeks it in Luke and Malachy, who are instantly attracted to her when she first walks into their lives. She uses her considerable feminine charms to lure the two best friends into a competition over her, each trying to top the other with teen male bravado that escalates into dangerous territory. "I am so going to f--k her," Luke vows, watching Michelle's swinging hips as she walks away." "Not if I get there first, you're not," Malachy retorts. As the tagline says, "Game on."
Of the three, Malachy is the one with the most going for him. Unlike Luke, who deals drugs for his brother, he has an honest job at the Leisureplex working for Crilly. Malachy comes from a decent middle-class home, with caring, supportive parents who are interested in his life and his future prospects. When his report card comes in with six A's they throw a small dinner party to celebrate his achievement. But he is distracted by text messages from Michelle and Luke taunting him about the fact that they are out together while he's stuck with his family. Simmering with jealousy, he is easily coaxed into stealing his father's taxi to join them, with disastrous results. For Malachy, however, what starts out as a challenge aimed at Luke over Michelle evolves into something holding real emotion. The same ability to see value buried under Luke's pernicious tendencies allows Malachy to perceive the vulnerability in Michelle, and he becomes protective of her, which will prove to be to his detriment. It becomes apparent that he is falling for the young beauty. When Michelle's father gives up and is set to send her away again, Malachy tries to persuade her that he will go with her. "Where would we go?" she asks. "I don't know," Malachy admits. Then, with determined sincerity, "Does it matter?" 
It is then Malachy's growing feelings for Michelle that becomes a source of bitter jealousy for Luke. Rather than fear of losing the challenge and losing his shot at Michelle, Luke becomes visibly unnerved that he may be losing Malachy, the only source of stability in his troubled life. An example of this is when Malachy pays Luke a visit to brag about his near-conquest of Michelle. It isn't that bit of information that bothers Luke, who is only too eager to hear the dirty details. The momentary flash of bitterness on Luke's face when Malachy confesses feelings for Michelle tells where Luke's real problem lies. While the boys celebrate Malachy's accomplishment over a couple of joints, Luke makes what on the surface sounds like an off-handed suggestion that the three of them should engage in, as he expressively puts it, a "spitroast." But is he really joking, or is this is a last ditch effort to hang on to something he feels is slipping away? Is he trying to reinsert himself (pun intended) with a proposed threesome when there is a danger the twosome of Malachy and Luke will give way to Malachy and Michelle?
While we know that Malachy is falling for Michelle, it is really the brotherly love between Luke and Malachy that is the heart of Cherrybomb. The true emotional sparks in the movie are in their scenes together, whether they are engaged in good-natured ribbing and boy banter, or furiously getting into each other's faces and even coming to blows. The strength of their friendship and their bond is tested to its limits, and it's the outcome of this test, and not who gets the girl, that is the ultimate point to the story.
As for the look of the film, Leyburn, Barros D'Sa, cinematographer Damian Elliot, and editor Nick Emerson worked within their small budget to create a film that is nonetheless visually striking, using interesting camera angles, shot composition, and editing to inject a definite style without becoming distracting. That the two directors come from a design background is apparent in the visual aspects of the film. This is especially true in the scenes of the drug-and-alcohol fueled parties in red-lit bars, dark athletic pitches, and most impressively, in the Leisureplex itself in a blow-out that blows up in the end. These scenes are shot with swaying camerawork and edited to dissolve in and out of focus between jump shots and montages to heighten the trippy, drugged-out feeling. But even in the quieter scenes, good use is made of close-ups of the highly expressive faces of the young stars, especially Grint and Sheehan, who are both exceptionally watchable and appealing in a real way, and not the perfect, pretty-boy Hollywood standard. To complement the interesting visuals, the film is propelled along with a great soundtrack of eclectic music by Irish/UK indie artists such as TwinKranes, Flykkiller, Cashier No.9, The Vendetta Suite, and DJ/composer David Holmes, to name a few.
As a foray into feature films, Cherrybomb is an impressive debut for the two directors and a glimpse of the good things to come from the three leads. The subject matter could have resulted in a cliché-laden and formulaic product, but skillful direction, along with solid, earnest performances by the young cast avoid the pitfalls and achieve an absorbing and worthwhile film. 
Cherrybomb will make the third leg of it's festival run at the Belfast Film Festival on March 30th. 
The 59th Berlinale Film Festival is underway.  Below are some of the stars and films that made their way to Berlin this year to take part in Europe's second biggest and most important film festival after Cannes. 
Woody Harrelson was in Berlin for his film The Messenger. Harrelson and co-star Ben Foster play army officers whose duties are to inform the families of soldiers killed in action. Of the experience of working on the film, Harrelson says, "I've been an outspoken peace activist for good reason. But what was missing from my own philosophy was a real understanding of what these soldiers go through. The time we spent with them working on the film left me with profound respect and compassion for these people who are going to Iraq and Afghanistan." The film is in the running at Berlinale for the Golden Bear award.
 Adorable Rupert Grint attended the premiere of Cherrybomb at Berlinale. The Harry Potter star temporarily removes his wizard robes (literally--check the film still below with co-star Kimberley Nixon) to play the part of a rebellious Belfast teen in the gritty drama about a summer of hard-partying and juvenile delinquency that goes fatally awry . Cherrybomb also stars Robert Sheehan and James Nesbitt. 
Speaking of Potter, Sally Potter (no relation) wrote and directed Rage, a murder mystery and dark comedy set in the New York fashion world. Leggy Lily Cole, who plays a model named Lettuce Leaf, was at the festival for the premiere. 
Rage also stars Judi Dench and Jude Law. Law, almost unrecognizable in the Rage still below, plays a cross-dressing model named Minx.
Leonardo DiCaprio received the International Green Film Award during the Cinema for Peace gala at the festival for his film The 11th Hour.
 DiCaprio co-wrote with Nadia Conners, co-produced and narrated the documentary about the environmental crisis facing the planet and the steps necessary to halt and reverse the destructive effects of global warming, pollution, and other global dangers.
Ralph Fiennes and Oscar-contender Kate Winslet (looking gorgeous as always) were on hand at Berlinale for a screening of their critically-acclaimed film The Reader. 
Her role as a German woman with a dark past in Nazi Germany has earned Winslet her sixth Academy Award nomination.
What's in that pumpkin juice anyway? That bombshell there is none other than Emma Watson, aka Hermione Granger of Harry Potter fame. The bewitching young actress looked fab and glamorous in a series of photos published this weekend by The Daily Mail in an online article where Emma talked about fame, fortune, and possibly attending Cambridge or an Ivy League university. All that and brains, too?
Rupert Grint, Emma's onscreen schoolmate Ron Weasley, also looks to have passed through puberty and adolescence and emerged on the other side unscathed. Here he is in a photo from his new movie, the intriguingly named Cherrybomb. It's like Ron Weasley got hit full on with an expecto sexinus spell. The film is described as a thriller/romance about a wild weekend of "drinking, drugs, sex and a deadly end" to a competition over a female, played by Kimberley Nixon. Cherrybomb is set have it's world premiere next week at the Berlinale film festival in Germany.
Look for Grint, 20, and Watson, 18 (ages helpfully provided so some of you can perv guilt-free), to show off their charms in Harry Potter and the Half-Blood Prince in theatres this July.--Dr. FC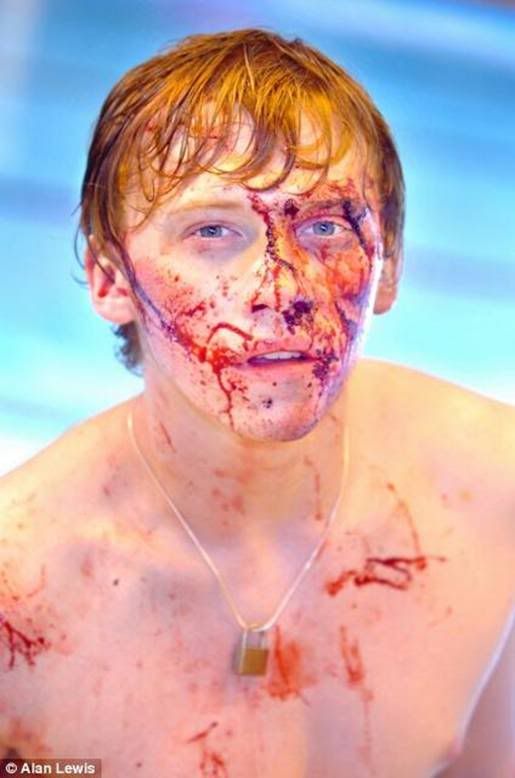 Rupert Grint will be getting all bloody in his new movie Cherrybomb.
Since that other blogger queef posted without giving credit where the story originated, here is where it came from: http://moviesblog.mtv.com/2008/09/29/rupert-grint-gets-bloody-for-cherrybomb-check-out-exclusive-photos/ 
Enjoy Potterheads!-Dr.FB