Our photo of the moment is of Kimbra and Morris Hayes, known for being a part of the New Power Generation, Prince's band.
Word on the street is the past few days that Kimbra has been recording with Deep Cotton and Morris Hayes. Those familiar with Janelle Monae should know who Deep Cotton is. They also performed in Los Angeles last Sunday.
Morris, care to give the doc a scoop?-DocFB
Diagnosis: Kimbra Koolness....
After a run of club shows last month at the Troubadour and the House Of Blues, Prince showed up Wednesday night at the Viper Room.
He did not perform though.  He was there to check out his dancers, the Twinz, perform in their group Heroine December.  They did a rousing 30 minute set that closed with an awesome cover of "Raise Your Glass" by Pink.  We will have video up as soon as we can get it uploaded.
We did tease earlier in the night about going somewhere via our Twitter account. Were we headed to Cobra? The Snake Pit? As it turned out, some of you knew we were heading to the Viper Room.
Prince back in L.A.  Hmm.  Cassandra O'Neil and Morris Hayes, NPG band members were in attendance as well.  Also in attendance was the Twinz mom, who has been having some health problems as of late.  I did not see her but glad she is out and about.
Check out Heroine December's 1st music video "Weekends Are Made For Fun" with cameo's from Tiny Lister Jr. of "Friday" fame and Nick Hogan (His father Hulk wrestled Tiny back in the day) and Letoya Luckett....plus a nice little symbol hanging from a dash of a car.
As for those that will ask what Prince looked like last night, well, he looked like Prince.-Dr.FB
Diagnosis: Every Weekend Is Fun If You Are With The Twinz!
Here is "Laydown" by PRINCE & The New Power Generation as performed on "Lopez Tonight" earlier.
What did you think of the performance?-Dr.FB
Diagnosis: The Purple Yoda Lays It Down!
Prince continued his surprise appearances in New York City today when he dropped by the 107.5 WBLS studios for an interview; keyboard player Morris Hayes came with.
Prince talked about his upcoming shows at the IZOD Center on December 15 and 17, and his Madison Square Garden shows on December 18, 29 and January 18 (ticket info). Prince gifted the radio host with Prince candy bars - wonder if this means there will be some interesting new merchandise at the NY shows?
Prince also answered questions about the special guests that concertgoers can expect at the NY shows, how he stays looking so young, and whether he would ever launch his own shoe line (!!). Prince said he really doesn't do interviews much because "if you listen to my music, that's me now".
During the interview, Prince sent prayers out to one of his backup singers, Shelby J., whose father passed away this week. We too send our condolences to Shelby and wish the best for her and her family.
Listen to the WBLS interview with Prince:
Special thanks to a reader for letting us know about this. - Dr.FB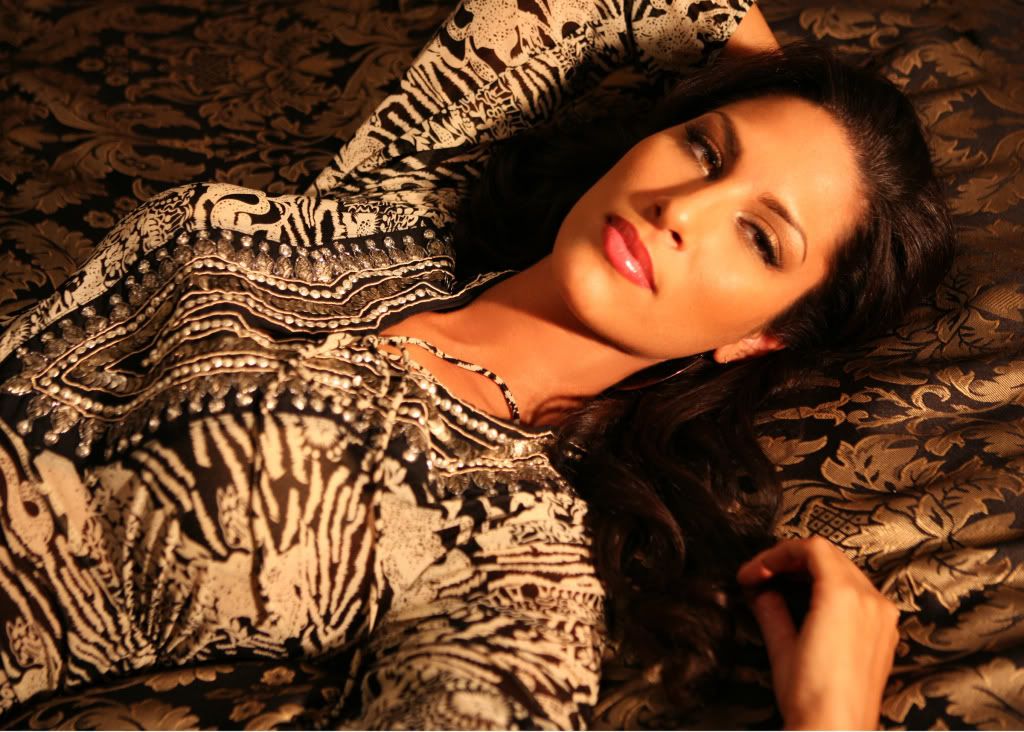 MAN THIS GIRL IS FOOOOIIIIINE!!  PRINCE accompanied by BRIA VALENTE, MORRIS HAYES and CHELSEA RODGERS attended the Grammy Nomination bash at L.A. LIVE/ Club Nokia Wednesday night. They arrived late but caught the last jam- Jungle Love. Prince had to leave his front row balcony seat and watch from behind a curtain higher up. It was actually cool on his part because the audience stopped watching the band just to get a good glimpse of his date. Somebody put this girl's CD out already with LOTS of photos inside, OK?-Dr.FB
Update!!!!   Exclusive Download In High Resolution! 
------> Bria Valente Camaflauge Wallpaper!  <-------
She can be downloaded in beautiful 1024 x 732 dimensions.  Thanks to the person who sent this to us.